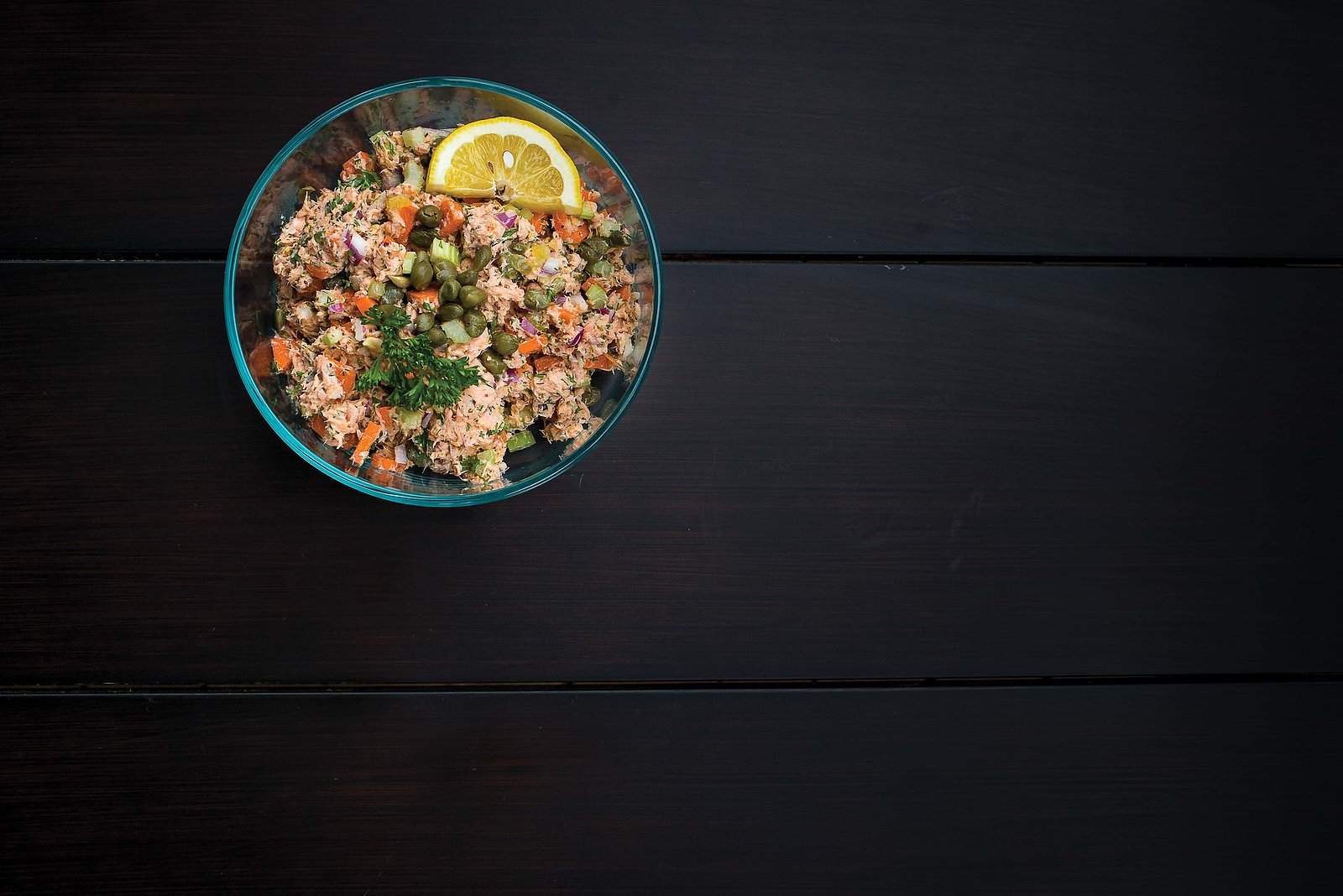 Salmon Slayer Salad
INGREDIENTS
1 lb. cooked sockeye, or your favorite PNW salmon. Bake, cook, or grill—whatever's clever. Cook until fully done, then chill. Shred that salmon!
2 tbsp. Vegenaise—Better trail travel than mayo. Add more if salad feels dry.
1 tbsp. lemon juice—Hand-squeezed (good training for DH arm pump).
1 tbsp. fresh chopped parsley.
2 tbsp. fresh chopped dill (because everything tastes better green).
1 tbsp. Dijon or grainy mustard. French's Mustard works too. Plus, they kicked off the turmeric craze. Ahead of their thyme!
2 tbsp. capers—Everyone's favorite flower buds; so good, they feel like flavor cheating. Rinse to go pro level.
¼ cup chopped carrot
¼ cup chopped celery
2 tbsp. chopped onion
Add sea salt and your favorite hot sauce to taste—unless you can't handle spice (or are JP). Then black pepper is fine, I guess.
TO PREPARE
Place shredded salmon in mixing bowl and add the rest of the ingredients. Mix thoroughly—like you're packing your favorite berm (for additional arm-pump training).
Serve with sliced Japanese cucumbers (because normal cukes shouldn't exist), your favorite bread or chips and Kulshan Brewing Co.'s "Party in the Woods" Session IPA.
Your Salmon Slayer Salad is now ready to serve, and you are ready to rip! Mahalo!
Spencer Santenello is a private chef who has been mountain biking for 15 years and cooking since he was a grom. When not behind a bar or in the kitchen, he can be found in either Whatcom County or Kauai, HI, surfing, riding, building trail or drinking lavender Americanos.